Help Show the Love and Make Dreams Come True
by Supporting Subaru of Portland's Wishes in Motion Partnership Event
Here at Subaru of Portland, we put our love for the local community before the roles and responsibilities of our business. And with a Make-A-Wish® Oregon Partnership, devoted to turning local wishes within the community into a reality, we're able to display this unwavering support and contribute to making a meaningful difference for those in need of smiles and joy.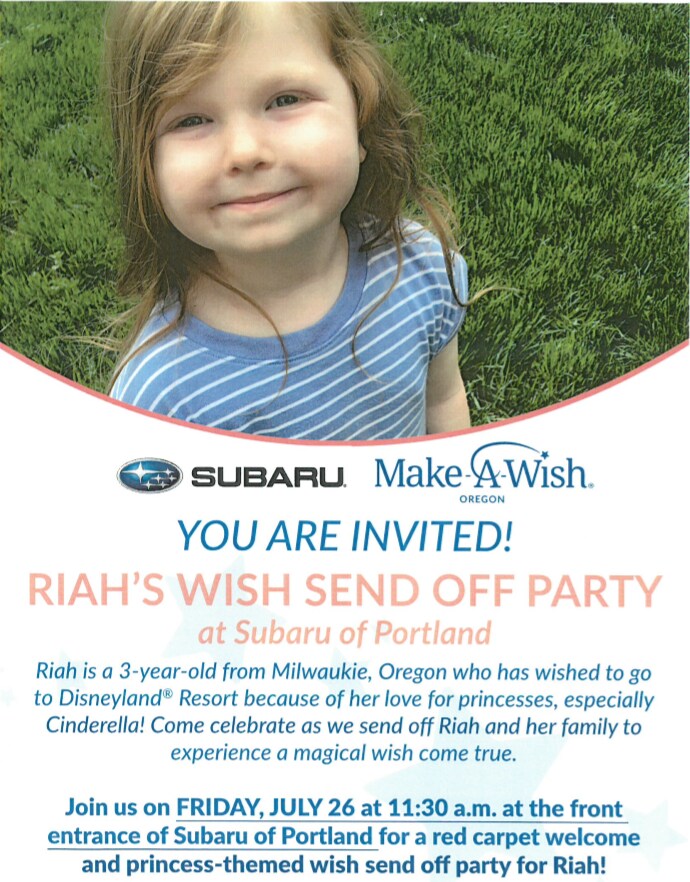 ---
How Our Make-A-Wish® Relationship Works
Throughout the summer, we will donate to Make-A-Wish® Oregon every time our team sells a new Subaru model on our showroom floor here in Portland. As 267 kids within the community battling critical illnesses are participating in this organization, we pledge to use this donation in direct support of making their respective wishes come true.
Important Wish Upon a Car Raffle Details
Beyond our Make-A-Wish® donation pledge for new Subaru model purchases, we will host a Wish Upon a Car Raffle to further commit to this cause. If you're interested in entering a raffle to potentially win a Subaru EyeSight®-equipped 2019 Subaru Crosstrek 2.0i, then we encourage you to purchase single $35 tickets and enter this exciting prize drawing.
Tickets are available for a full month's time from Wednesday, June 5th through the 5pm raffle closing on Monday, August 5th. We will close the drawing automatically when 3,000 tickets are sold and formally announce a winner of this new Subaru model at 1PM on Tuesday, August 6th.
Ways to Get Involved
To provide kids fighting critical illnesses with hope and encouragement as they work through this difficult journey while also rallying around their families with unwavering support, we encourage you to get involved with Make-A-Wish® Oregon. Please contact our team today for more information about our upcoming raffle and new Subaru donation initiative. It's time to display the powerful magic of community care to these local kids in need of this collective love.